Possible keyboard and dialer from HTC Sense 5.0 leaked
26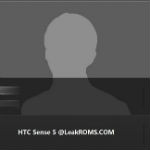 We've only heard a little bit about what will be coming with HTC's UI layer, Sense, as part of the 5.0 upgrade which is expected to be a central part of the new flagship HTC M7, due to be announced soon. But now, there has been a leak which claims to be the dialer and keyboard from Sense 5.0.
The only thing that we've heard so far is that Sense 5.0 is planned to be "
simple and clean
", and will have the requisite changes to the lockscreen, the baked-in HTC apps, and on-screen elements like volume controls. From the screenshots of the keyboard and dialer, there don't look to be any big changes to these elements, but of course they are fairly small bits of the whole UI.