Mophie's new battery case for the Galaxy Note5 provides additional 2,500mAh at your disposal
11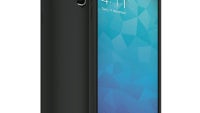 Mophie, one of the reasonably popular accessory makers for smartphones, has just unveiled the latest addition to its battery case portfolio. Meet the Mophie Juice Pack for the Galaxy Note5, Samsung's S Pen-boasting knight in a shining armor.
The glass and metal sandwich that is the Note5 is certainly a champ in the battery endurance category, lasting for 9 hours and 11 minutes in our custom battery benchmark test.
This is a remarkable achievement on the Note5's end, but it's never too bad to have a couple of additional hours of battery life at hand.
Well, Mophie's new Juice Pack does exactly this. The 2,500mAh embedded battery in Mophie's newest accessory is said to provide up to 13 additional hours of battery stamina.
Of course, putting the Juice Pack on your Note5 will hide the premium exterior of the device, but that's a price that has to be paid. The Mophie Juice Pack will cost you EUR109.95 ($125.47). It is only available in black, mind you.