Monzo brings the joy of model building to Android and iOS
5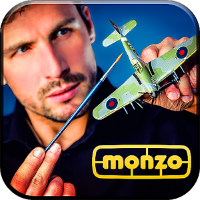 You wouldn't expect the maker of Dead Trigger - a game we remember for fancy graphics and bloodthirsy zombies - to deliver a game as harmless as a virtual model kit builder. But Madfinger Games totally did just that. The result is Monzo - a model-building simulator that lets you assemble over 30 items part by part.
Each separate piece is modelled in impressive detail equaling that of real-world model kits. And assembling them in 3D is just as fun. When you're done building your dinosaur, Colt 1911, or Ferrari Enzo, you can finish it with a coat of custom paint and decorate it with a selection of stickers. New models will be arriving weekly, as well as stuff to customize them with. Each model has a manual which you actually read so you know what part goes where. The finished creation can be placed inside a photo montage or shared on social media. That's they way things are going in the digital age.
Monzo is totally free to start out and is both an educating and entertaining experience. It's safe to say Madfinger delivered another quality title to Android and iOS. The only downside is not all models are free, but at least 3D models are much cheaper than conventional model kits.