Modular Fairphone 2 returns to market with slimmer, customizable back covers in new colors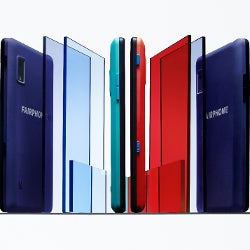 Back in June of 2015,
we told you about the modular Fairphone 2
. As far as modular phones go, this wasn't anything like the late Project Ara. The modular design was made to replace broken parts, not to upgrade the phone. For example, one of the few changes that could be made allowed users to quickly replace a broken screen in less than 60 seconds. That helped the phone earn the only perfect score of "10" in iFixit history.
Now, the Fairphone 2 is being relaunched, giving users the option to customize the back cover of the phone. Where before users could choose between a transparent back cover or a black one, they can now select from a slimmer back cover in Red, Indigo, Turquoise, and White. The new Fairphone 2 is on pre-order for the equivalent of $555 USD.
The company says that it is going to start making modular parts to upgrade the current components. First up will be the camera, although there is no date planned for the arrival of this modular snapper.
We can tell you that the Fairphone 2 is powered by the Snapdragon 801 chipset which carries an octa-core CPU and the Adreno 330 GPU. 2GB of RAM is inside along with 32GB of native storage. It features an 8MP rear-facing camera, and the 2420mAh battery keeps the lights on. With the limited modular abilities of the device, and the current specs that are two generations old, $550 USD seems like a high price for a device you'll have to spend more money on to bring up to date. We should note that U.S. consumers don't have to worry about that yet since the device is available only in Europe for now.
source:
SlashGear