Modern Combat 5: Blackout for iPhone, iPad and Android is here: $6.99 and no in-app purchases
21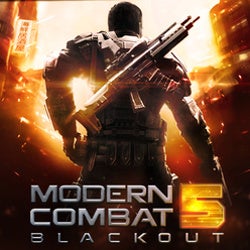 Modern Combat 5: Blackout is finally out for iPhone, iPad and Android. The fifth instalment in the Modern Combat first-person shooter series comes with even better graphics than before, a rich, story-driven single-player mode, as well as a fun multiplayer options where squads of players face each other in battle.
Modern Combat 5 introduces four classes of warriors that you get to pick from: Assault, Heavy, Recon, or Sniper. Choosing a class defines the way you will play, and the more you advance in the game, the more you get to develop your class skills.
The single-player mode has improved a lot since Modern Combat 4, taking you into vastly different environments, from Venice to Tokyo, but it's also the pure creativity in gameplay - from missions where you protect someone, to cinematic animations where your hero does crazy stunts to survive, then shooting from a helicopter, and so much more, the new MC5: Blackout is tons of fun.
The multiplayer, though, is where things really get insane with squad battles, global and squat chat, leaderboards, and everything in between to get you hooked.
Modern Combat 5 costs $6.99, which is on the steep end of things, but given the fact that Gameloft has choosen the noble thing not to bother players with any in-app purchases and allows you to fully enjoy the gameplay, it seems like a price well worth paying.
Modern Combat 5: Blackout for iPhone, iPad and Android