Modern Combat 3 gets its price drop to 99 cents for 24 hours
8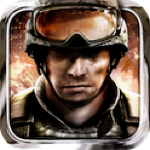 Gameloft had dropped all of its
games to 99 cents
as a celebration of the new year, but Modern Combat 3 was the only game left out of the week long sale. Now, Modern Combat 3 has gotten the same treatment of a price drop to 99 cents, but if you want to get it you'll have to be quick because it will only be on sale for 24 hours.
If you're a fan of first-person shooters, you'll probably want to jump on this deal. MC3 has gotten quite a bit of praise. Just be warned that it does require 1.4 gigs of free space for the data install.
Of course, if you aren't a fan of FPS games, all the other Gameloft games are still on sale, and there are a number of good ones in that batch. If you want Modern Combat 3, just head over to the
Android Market
.