Mobile battery pack Pronto can recharge itself 12 times faster than the competition
8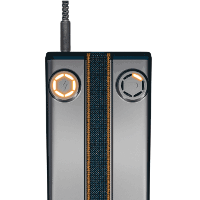 Pronto is a portable battery pack that takes only five minutes to recharge its internal battery by enough to fully charge an
Apple iPhone 5
. This is a crowdfunded device that is currently on Kickstarter. The good news is that Pronto will be produced since it did reach its funding goal. Actually, the battery pack raised more than twice the funding target of $50,000. With 28 days left, Pronto has raised more than $106,000.
There are two versions of the Pronto. The Pronto 5 features a 4500mAh battery and will retail for $99. The Pronto 12 is equipped with a massive 13,500mAh cell, and will be priced at $149. Both models need just 5 minutes to grab enough juice to recharge your iPhone 5 one time. Recharge both for an hour and the Pronto 5 will recharge your iPhone 5 three times and the Pronto 12 will recharge your iPhone 5 nine times.
Pronto has been designed to charge itself 12 times faster than the usual battery packs found at stores. The device is not expected to be available until next June, so until then, you will just have to cope with the mobile charger that you're currently using.
source:
">Kickstarter
via
GigaOm