Mobile Browsing accounts for 20% of North American web traffic according to new report
15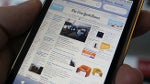 A new report from online advertising network Chitika says that in North America,
20% of web traffic comes form mobile browsers
. The corollary of course is that 80% of web use still comes from PC's in all shapes and sizes. The 20% of web traffic belonging to mobile devices can be broken up even more with 14.6% of that traffic coming from smartphones and 5.6% from tablets.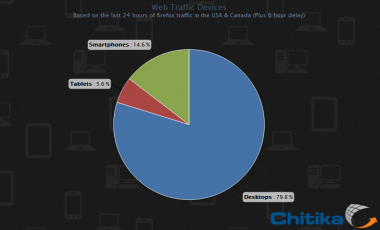 20% of North American web traffic is from mobile browsers
Other data from Chitika shows that Windows Phone users account for just one-third of the web traffic generated by BlackBerry users. Remember that this has nothing to do with marketshare. Windows Phone users use their browser more than BlackBerry owners because of the
larger screens and more powerful browsers on Windows Phone models
. 95% of tablet based mobile web traffic comes from the Apple iPad while 72% of phone based mobile traffic comes from the Apple iPhone. Android phones account for 26% of the mobile web traffic that comes from smartphones. Another interesting data point uncovered by Chikita shows that mobile browsing rises in the evening hours when peole get off their computers and start to go mobile with their phone or tablet.
source:
Chitika
via
AllThingsD