Minicraft gets an Android port with some extra features
1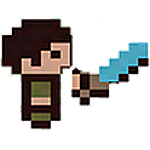 If you are a fan of Minecraft, the creator Markus "Notch" Persson, made a spiritual sequel, Minicraft. The game was created just a few weeks ago, and it only took Notch 48 hours to do it. The game is the spiritual sequel to Minecraft in that what you do is the same, but instead of the first person POV and distinctive 3D art, Minicraft is a top-down adventure game, similar to old school Zelda games.
The problem for us was two-fold: 1) the game was web-only, and 2) there was no save function. Now, developer Folstad Consulting Inc. (one of the strangest, yet coolest developer names we've seen in the Market) has made a port for Android. The port includes on-screen controls as well as the all important save feature. On top of that, the port also allows players to "cheat" by giving you a set of gem tools, which makes the game pretty easy.
If you want to give it a shot, you can grab Minicraft for free in the
Android Market
.