Minecraft Pocket Edition now available on iOS
7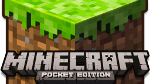 The day has finally come for all of the Minecraft fans looking to get their fix on an iPhone or iPad. Minecraft Pocket Edition has been
available for Android users
for just over a month now (longer for the rare Xperia Play user), but now the game is available in the App Store for iOS users.
Keep in mind of course that as of right now there are the same limitations as the Android version. Namely, this is just the basic Classic mode at this point. This means you are given an array of blocks and you can build and dig around in the world, but that's it. There are plans to eventually bring in Survival Mode and multiplayer maps, but you'll have to wait on Mojang before getting a deeper version of the game.
It is a bit more expensive for iOS users as well, clocking in at $9.99, but as is the usual modus operandi for Mojang, we're assuming that this price will not only get you any future updates, but will likely speed up said updates by giving the developer more working capital.
If you want Minecraft Pocket Edition on your iPhone or iPad, it's available in the
iTunes App Store
.