Microsoft's 'Woodstock' music service is alleged to offer cross-platform streaming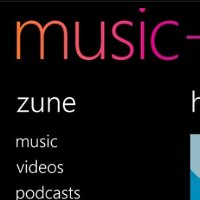 There's no question about it whatsoever, but as we all realize, Microsoft is moving forward in unifying a variety of its services. For example, we're
starting to see certain gaming titles
that can be played on a Windows Phone, and then continue the action at home through an Xbox 360 console.
Well, it looks like Microsoft is aiming to do something similar with its
music service
in Zune. Right now, it's only Windows Phone smartphones that can tap into the streaming service, but it sounds as though that the Redmond based company is going to be expanding its reach. Specifically, it's speculated that Microsoft is going to be unveiling its new "
Woodstock
" Xbox music service at this year's video game focused E3 event.
Now what's cool about it, is the fact that it'll be a new streaming service that will be
compatible across an array of platforms
. For example, it's looking to be available through Android, the Xbox, Windows 8, Windows Phone, iOS, and even through a native app or web browser. Essentially, Woodstock is Microsoft's answer to other comparable services like Spotify, which allow users to stream as much music as they want.
Beyond having the ability to stream your favorite tunes, Woodstock is reportedly going to offer a
deep Facebook integration
as well – plus, a "
scan and match
" function that will allow users to identify their catalog of songs. As much as the Zune brand has been an established one for Microsoft, they intend on actually moving away from it. So right now, we'll just have to wait until E3 to find out what the ruckus is all about.
source:
The Verge
via
BGR