Microsoft working on "Apollo+" Windows Phone 8 update
14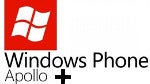 Word is out that Windows Phone 8 already has an update in the works. This shouldn't really be a surprise as big updates like WP8 tend to have an incremental update that follows pretty soon afterwards, and this is no different. The update is being called "Apollo+", and is aimed at fixing issues for which Microsoft "ran out of time" before the WP8 release.
The exact contents of the Apollo+ update aren't known, but there are a number of issues Microsoft could be working on for the update. Microsoft is looking at WiFi changes to allow for "always-on" connections, various audio playback fixes, as well as additional features that didn't make it into the Notification Center in WP8. Another big feature that could be in the update is VPN support, which would be huge for enterprise clients looking to connect to work computers from mobile devices.
No word on when the update will be coming, but it is expected that Microsoft will outline what will be a part of the update at Mobile World Congress in February.