Microsoft wins a U.S. restraining order against Motorola's German injunction
30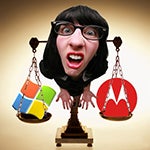 This is something you don't see every day; facing a possible injunction in Germany next week over FRAND-based patent infringement, Microsoft has successfully sued Motorola in the United States to prevent them from asserting the injunction (in Germany). If they win.
If your head is spinning a bit, we sympathize.
German courts are much more likely to provide injunctions than U.S. courts are for FRAND patents. Microsoft is suing Motorola in the U.S. to try and settle the exact same FRAND patent licenses, and it naturally didn't want to lose in Germany before settling the issue at home, where FRAND rules are more strictly enforced. How exactly can a U.S. court overrule a German one? It can't of course, but a procedural anomaly in German injunctions means they don't have to. If Motorola gets a favorable ruling next week (which Microsoft must consider reasonably likely since they have taken this unusual step) it would prevent Microsoft from selling almost any of its major products in Germany (including Windows and Xbox).
The key to understanding this mess is that winning an injunction in Germany doesn't result in the injunction being immediately applied; instead the winning company must formally request the injunction afterward, and often must post a bond and meet certain other obligations
prior to the injunction being enforced
. It is this follow up procedure that the U.S. court is barring Motorola from taking; the German court is free to come to whatever ruling it wants, but if Motorola asks for enforcement it will be found to be in violation of the U.S.-court-ordered restraining order.
Got that?
There are
several patents in play
on both sides, but the FRAND patents that Motorola is asserting involve the H.264 video codec that is used in many computing products. While the Motorola patents are not themselves specific to mobile devices, the lawsuit was made to counter Microsoft's attempt to extract patent licensing fees from Motorola's Android devices; given that licensing fees have threatened to undercut some of the value to OEMS of using Android, this case could have a
substantial impact
on mobile ecosystems going forward.
source:
FOSS Patents
via
Engadget