Microsoft uploads a whole bunch of new videos promoting a number of tablets and ultrabooks
8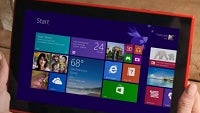 When you think about Windows, it is easy to get lost in just how many options there are when it comes to choosing a tablet or convertible Ultrabook for work or school.
Just about any tech company you can think of makes something that runs on Windows, including Microsoft, which is a recent development in itself. With that in mind, Microsoft uploaded more than 20 videos to show off all the choices you have.
When you consider the number of videos the Windows team shared, it is somewhat surprising to note that the Microsoft Surface tablets are not among them, but the venerable
Nokia Lumia 2520
tablet is. We have entries from Acer, ASUS, HP, Lenovo and Samsung to name a few.
A couple of the products are technically "coming soon," and all but one are mobile. Each video is a 30-second spot (or thereabouts), just get ready to hear the same music over-and-over again (it does change somewhere in there, but we can't remember exactly where it breaks as we started tuning things out while preparing the write-up).
Which of these appeals to you? Believe it or not, if none of them do, you literally have hundreds more options available to consider, from old-school towers to the latest and greatest tablets packing multi-core chipsets, Wacom enabled styluses, and super-sharp resolution displays, you can use Windows where and how you want.