Microsoft unveils Nokia 215: a simple phone with Facebook Messenger and long-lasting battery
21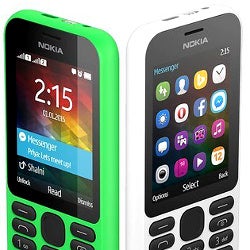 Microsoft's new Nokia 215 and Nokia 215 Dual SIM have just made an official appearance at CES 2015. At a full off-contract price of $29, the Nokia 215 is a traditional candybar phone with buttons, but what it stands out with is support for Facebook Messenger and a truly long-lasting battery.
The Nokia 215 comes with a 2.4" display with a resolution of 240 x 320 pixels (keep in mind that it's not a touchscreen). Along with Facebook, you can also use Twitter and MSN Weather on it, and the 215 also features the Opera Mini browser with Bing search. This might not seem like much, but you ought to put this in the context of the cheap price of the phone. In fact, this is the first Internet-enabled device at such a low price. You should remember that it runs on a feature phone platform (likely, Series 40).
The other big advantage of using a traditional phone like the Nokia 215 is the long battery life. You have a 1100mAh battery pack with up to 20 hours of talk time, 50 hours of MP3 playback, and an outstanding up to 29 days of stand-by for the single SIM version (21 days of stand-by for the dual SIM model).
Extras include a VGA camera, FM radio, a built-in torchlight, and colorful design with a green, black and white versions. The phone also supports microSD cards of up to 32 gigs.
Microsoft's Nokia 215 and Nokia 215 will be available in select markets in Middle East, Africa, Asia and Europe (but not in the United States) in Q1 2015.