Microsoft to let Oppo become the newest Windows Phone 8 manufacturer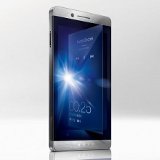 The maker of the thinnest smartphone currently in the world, Oppo, is said to be joining the Windows Phone 8 gang sometime next year. No, there's no mistake here. Let us explain...
Oppo recently released what is the world's thinnest smartphone
, called Oppo Finder. It's a stylish, 6.65mm thin handset, with a 4.3" Super AMOLED Plus screen, dual-core 1.5 GHz CPU, 1 GB RAM and Android 4 ICS. Sounds like a pretty good package? Wait until you hear that it's sold for about $400 off-contract, which beats pretty much every other top-shelf Android smartphone. The bad news is that the Oppo Finder is currently available only in China, which might explain why most of you (and us) haven't heard of it.
But back to the news at hand. Word is that Oppo, the phones of which are characterized by their stylish and good-looking designs, has been selected by Microsoft as a new Windows Phone 8 manufacturer. According to the rumors, Redmond has chosen Oppo because of its quality hardware designs, and relative unwillingness to mess with software. That's mostly fine by our standards, but the bad thing is that the company isn't expected to announce something prior to next year. When it does, however, we hope that its product will come to international and U.S. markets as well, and not just China.