Microsoft shows why Lumia smartphones are "the right choice for business"
24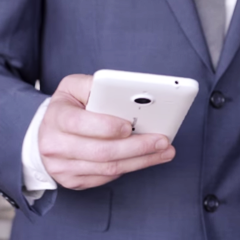 Microsoft today published a promo video to tell us why its Lumia Windows Phone handsets are "the right choice for business."
The video shows how a Lumia smartphone can help users throughout the day, from the moment they wake up. Checking your calendar, scheduling or re-scheduling events, reading and answering emails (at "record-breaking speed" with the Word Flow keyboard) - everything is easy. Microsoft Office, Cortana, OneDrive, and Microsoft's Mobile Device Management solutions are also very important. Plus, if you have other Windows devices (like a tablet or a PC), you can use them to continue the work you've started on your smartphone.
As you may notice, the handset used in the video - embedded below - is the
Lumia 640 XL
, which was recently launched in the US via AT&T. Costing $249 off contract, the 640 XL is a mid-range device with a 5.7-inch 720p display, LTE, 13 MP and 5 MP cameras (rear and front), quad-core Snapdragon 400 processor, 1 GB of RAM, and 8 GB of expandable storage space. Currently running Windows Phone 8.1, the Lumia 640 XL will soon be updated to Windows 10, which should make the device even more business-friendly. Of course, the 640 XL isn't the only Lumia that will be updated to Windows 10: all models that run Windows Phone 8.1 will get the new version of the OS.
What do you think, is Windows Phone a better choice for business than Android and iOS?