Microsoft planning to add pressure calibration to the Surface Pro 3 Pen
6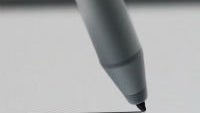 The Microsoft Surface Pro 3 may not have seen much change in terms of the internals, but the exterior hardware and accessories saw quite a few improvements. One of the bigger improvements is with the new Surface Pen (Microsoft insists it isn't a stylus, but that's just semantics.) The Pen is said to be far more accurate and natural to use, and Microsoft is now saying it will be adding calibration tools soon.
Microsoft posted a really nice write-up on the new features of the Surface Pen and the work that went into improving the device for the Surface Pro 3, and there was a lot that went into the device. Microsoft has worked hard to make the Pen work like... well, a pen. This means reducing the "perceived parallax" that is a constant problem with tablets, which means that there is often a space between the stylus tip and what is being drawn on the display. Microsoft also worked on reducing latency, and adding 256 different levels of pressure sensitivity.
That last one is even more impressive, because Microsoft has made it easy for developers to add support for the Surface Pen, meaning you could get the same impressive performance in a wide variety of apps. The one thing that is missing at launch is a way for users to calibrate the pressure sensitivity of the Pen, but Microsoft says that there will be a Windows update "in the coming months" that will add that feature to the Control Panel.