Microsoft planning big touch improvements for Windows Blue
7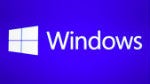 We've heard rumors here and there about
Windows Blue
, which is expected to be the next iteration of the platform. There's no word of when it's coming, or even what exactly it will be, but a new video from a private Microsot MSFTKitchen event is giving a couple hints. It seems that touch improvements are in the plans for Blue.
The rumors have said that Blue could point to a new paradigm for Microsoft, which could include a subscription to Windows and more frequent updates, all in an effort to bring everyone to the same platform version (aka no more XP stragglers), and also that Blue could include
support for 7-8" tablets
. In the MSFTKitchen video Microsoft's chief technical strategy officer, Eric Rudder, talks about Blue a bit, even saying that Microsoft is planning to "extend touch in even more dramatic fashion".
Later in the video, the name "Blue" is seemingly confirmed when it is said that Microsoft is working to add watercolor and mixed media to the Fresh Paint app "for Blue".