Microsoft narrates how it ported Office to Windows RT, details differences with the Win 8 version
5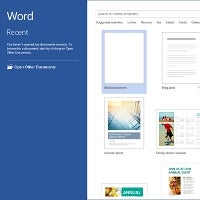 Microsoft outed a post yesterday at the Office blog, where it detailed for the first time the work done to port Microsoft Office to the ARM processor architecture that the iPad and Android tablets are using.
Optimizations had to be made so that the software takes advantage of the frugal nature of ARM-based processors and devices, with the intent to preserve battery life as much as possible, as portability and long battery hours is what we will expect first and foremost from Windows RT tablets with ARM silicon.
Then the interface was optimized for touch completely, and also the size of the software shrunk to occupy much less space on the usually limited amount of internal memory on such devices. While Microsoft says each and every Windows RT tablet will come with a free version of Office Home & Student RT 2013, there will be some features missing compared to the version running on Intel-based devices:
Macros, add-ins, and features that rely on ActiveX controls or 3rd party code such as the PowerPoint Slide Library ActiveX control and Flash Video Playback
Certain legacy features such as playing older media formats in PowerPoint (upgrade to modern formats and they will play) and editing equations written in Equation Editor 3.0, which was used in older versions of Office (viewing works fine)
Certain email sending features, since Windows RT does not support Outlook or other desktop mail applications (opening a mail app, such as the mail app that comes with Windows RT devices, and inserting your Office content works fine)
Creating a Data Model in Excel 2013 RT (PivotTables, QueryTables, Pivot Charts work fine)
Recording narrations in PowerPoint 2013 RT
Searching embedded audio/video files, recording audio/video notes, and importing from an attached scanner with OneNote 2013 RT (inserting audio/video notes or scanned images from another program works fine)
Office Home & Student RT 2013 for ARM-based Windows tablets will appear with Preview Editions of Word, Excel, PowerPoint and OneNote, while in the beginning of November the final edition will arrive for free via your Internet connection.