Microsoft is making 3 to 5 million Surface tablets in Q4 2012
10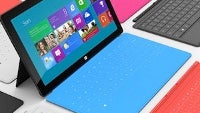 The Microsoft Surface tablet was made to show the best out of the new Windows 8 operating system. It's designed and made by Microsoft in what is a huge transformation undergoing at the Redmond company making it not just a software maker, and more of an Apple-like company.
Microsoft is taking the Surface seriously - it has
ordered 3 to 5 million to its vendors
, and all of them are coming in the fourth quarter of 2012.
That puts it on the same scale as the Google Nexus 7 and Amazon Kindle Fire tablets. Apple in contrast is expecting nearly double that demand, and is ramping up to make 10 million iPad minis for the fourth quarter
Here is how it breaks down, according to the preliminary data that's leaked out: