Microsoft hints at affordable smartphones running Windows Phone to land next year
10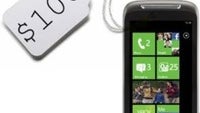 At a glance, this news seems too good to be true, but
Microsoft
may be really getting ready to introduce at least one
very affordable smartphone running Windows Phone
at some point in 2012. For those of you who are reading these lines with a skeptical look on their faces we have to clarify that it isn't a rumor that we are dealing with here – it was Andrew Lees, president of Windows Phone division at Microsoft, who spilled the beans while speaking at WPC yesterday.
So, how cheap would such a smartphone be you may ask. Well, it is probably too early to know for sure, but it was said that a Windows Phone handset
retailing at around $100
on contract might hit the market next year. The main reason for the substantial price drop, according to Mr. Lees, is that smartphone hardware production costs are dropping due to the advancements in system-on-a-chip (SoC) hardware engineering where all the components needed to run a platform are hosted on a single piece of silicon.
Well, even if the $100 WP smartphone becomes reality, would it be capable of delivering an experience on par with what one would expect out of a contemporary handset? The answer to this question is anybody's guess at this moment, but something tells us that more than a few compromises will need to be done while designing such a smartphone. What do you think?
source:
Microsoft
via
Geek.com