Intel releases dual-bootable Android 4.2.2
9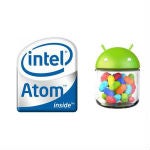 If you've been looking for a way to use Android on your desktop or laptop (and you're not too afraid of pre-alpha builds of software that are more likely very buggy if not unusable), then Intel has just the thing for you. Intel has just released an Intel-optimized build of Android 4.2.2, and best of all, it can now be run as a dual-boot OS alongside Windows 8.
The newly released build of Android 4.2.2 Jelly Bean is really for developers and the most enthusiastic of enthusiasts, but it does come with some nice new options. The new code is built on the Linux 3.8 kernel, and has a new interactive installer, along with the new ability to dual-boot on a Windows 8 system.
This could mean a quicker update for the Motorola RAZR i, but if nothing else, it gives devs the newest build of Android to play with on Intel-based systems.