Microsoft details the camera "magic" in the Lumia 950 and 950 XL (with pictures)
75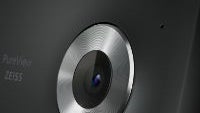 There's only about one month to wait before the Microsoft Lumia 950 and 950 XL are released and as is tradition with high-end Lumia devices, the expectation is that the camera will be killer. Today, Microsoft published a pretty in-depth (and poetically worded) blog post talking about what it calls the camera "magic" built into the new Lumia flagships.
We need to point out that the blog post is a first person account of using the camera written by Juha Alakarhu, head of imaging technology on the Lumia Windows Phones. So, we're a bit torn on the comments made, because on one hand, Alakarhu isn't the most unbiased source, but on the other hand, the sample images do seem to support his claims.
The post starts out with the basic specs of the cameras - a rear-facing PureView camera with a 20-megapixel advanced BSI sensor, F1.9 Zeiss optics, triple-LED natural flash, fifth-generation optical image stabilization (OIS), ISO12800, 4K video, and a 5-megapixel wide-angle front-facing camera - and a blurb about the natural colors and fine detail captured by the sensors. Alakarhu doesn't try to hold back, saying that the dynamic range is so good that "HDR is rarely needed" and ends the segment with the bold claim, "it's SLR quality."
Alakarhu then goes on to talk about the low-light performance and how OIS and the large aperture improve the quality of those images. In an amusing turn, he shows a comparison of a low-light shot taken with a competitor's camera and describes the image taken by that device as looking "pretty smashed", while describing the Lumia's shot as "natural", "beautiful', and "pure."
The post ends with Alakarhu describing how the Lumia camera is a "mind reader" because of the new Rich Capture mode, which uses two exposure times for the same image: short for the moving object and long for the static part of the image, as well as the RGB LED flash. This sounds pretty amazing really, because (if it works as promised) the Rich Capture mode will allow you to change the amount of light in a photo after the image is taken, even when you're using the flash. The camera will take two photos, one with the flash and one without to do this. Additionally, the three color flash is supposed to match the ambient light of the scene in order to produce more natural colors, even in candlelight.
Frankly, we're pretty excited for the new Lumia cameras, because the quality does look amazing. The only thing we can't quite judge right now is the speed of the camera. But, we should be able to see for ourselves soon enough.