Microsoft details cloud-based People app for Windows 8 that pulls all your contacts together
5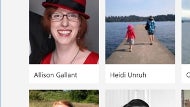 Microsoft's Steven Sinofsky detailed last night what could end up to be the most complete and social address book the company has ever created, barring the one on Windows Phone. The app, which will run on Windows 8 with its Metro interface, will be called People, and pulls together all people you know from various sources.
Besides your colleagues from your Exchange account and your Outlook contacts, it will sync your phone and social networking buddies as well, like those on Facebook, Google, LinkedIn and Twitter, basically covering the gamut of family, friends, co-workers and acquaintances.
And it won't be a one-time pull, but rather the People app will sync with those services to input any changes made, and your contacts will be displayed with photos, texts, emails, statuses, feeds, tweets and so on. An exemption is accounts that are governed by privacy policies, like your work Exchange account, which won't sync to the cloud. Default apps like Mail and Messaging will also use the People contact list, and it will be open to 3rd party apps as well. You can pin favoritesto your Start list and access all the current info about a person or entity with one tap.
The nice part is that this thing will sync your contacts to the cloud, so you will have access to your list from every device you use and from the Web as well. The People app will serve as a communication hub, too, and you will be able to browse just "What's New" section for contacts who have posted or sent you something, or directly message them via whatever service you have in common.
Have a look at what's in store for your Win 8 tablet or computer with the new People app in the slideshow video below. It's still a work in progress so more features could be added for the final release.