Microsoft announces the Surface Pro 4, 50% more powerful than the MacBook Air
47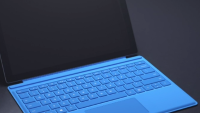 Today, October 6, Microsoft announced the Surface Pro 4. This productivity-oriented workhorse tablet that features a sleek and elegant design, Intel-powered hardware, and a bunch of accessories, such as type covers, a dock station, and a powerful stylus to enhance the user experience.
Design
The Surface Pro 4 features a large 12.3-inch display with a 2160 x 1440 resolution, which is on par with competing tablets in the Pro category, such as the Galaxy Note Pro 12.2 and the Apple iPad Pro. The 12.3-inch display is able to sense 1024 levels of pressure from its stylus. Its pixel density adds up to 267 pixels per inch, which is very good for the size. The screen is covered in 0.4mm Gorilla Glass and has a very thin 1.1m backlight unit. It also has a special Touch Chipset, developed by Microsoft and dedicated to the stylus and touchscreen operations.
The tablet boasts thin screen bezels and its overall look is reminiscent of the Dell XPS 13, an almost border-less fashion piece of a laptop. The device is built out of aluminum alloy and has the typical sleek, but solid appearance of Microsoft's Surface Pro line.
Hardware

The Surface Pro 4 is powered by Intel's latest Core M processors and features integrated Iris Pro graphics. According to Intel, the improvements in the latest generation Core chips could contribute to a 50% increase in 3D graphics performance, although one still shouldn't expect to play the latest hi-end games in maximum detail. However, the Surface Pro 4 has no trouble handling 4K video at 60 frames per second, and it's actually able to output it to 3 separate 4K displays simultaneously. The Intel Skylake CPUs is kept company by up to 16GB of RAM and up to 1TB of storage! Microsoft promises a 9 hour battery life out of this thing.


Accessories

If you own a bunch of accessories for the Surface Pro 3, good news — you won't have to buy everything all over again, for the most essential among them, such as the type covers, the power adapter, the Ethernet adapter, and the Docking station will be compatible with the tablet.

In addition, the Pro 4 sports a new and improved Surface Pen. The Microsoft Pen has improved precision and boasts a record 1-year battery life, although MS didn't want to make it rechargeable for some reason. Rather than housing it in a silo, MS simply let the Pen attach itself to the tablet through the age-old power of magnetism! The pen is available in five different colors, including gold (not rose-gold, though).




Speaking of accessories, the new type cover features a backlit keyboard with scissor mechanisms (like the 12-inch Macbook) and a precision glass trackpad that's also 40 percent larger than the Surface Pro 3's.



Price and release date
The Surface Pro 4 starts at $899 with preorders starting October 7. The Surface Pro 4 will ship on October 26.