Microsoft Surface tablets sold merely 1.7 million units in 8 months since launch
19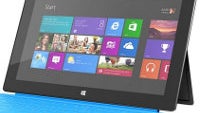 The Microsoft Surface family of tablets launched as a clear iPad/Android rival, but it has obviously failed to meet sales targets and the Surface RT is on a fire-sale right now. How many units did Microsoft sell however? The Redmond company has filed its K-10 Form with the U.S. Securities and Exchange Commission (SEC).
Careful analysis of the filing reveals
sales of around 1.7 million
in the 8 months since launch. Those 1.7 million units look measly compared to the 14.6 million iPads Apple sold in the three months of Q2 2013 alone. Android tablet sales are much higher.
How did this 1.7 million number come up, though? After all, it's true that Microsoft has never officially released sales figures for its Surface tablets. Buried deep in the K-10 filing however are Surface tablet revenues. The number stands at $853 million, which is even less than the $900 million write-down Microsoft announced earlier.
The revenue covers the eight month period ending June 30th, and if we take an average Surface price of $500 that would result in sales of 1.7 million units.
Microsoft chief executive Steve Ballmer earlier said that the company has
"built more devices than [it] could sell."
Still, a second generation Surface is likely coming as the tablet market as a whole continues growing.
source:
Microsoft Form K-10
,
GeekWire
Recommended Stories