Microsoft Surface tablet might use a proprietary power connector, similar to Apple's MagSafe
6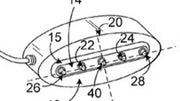 Last week, it was discovered that Microsoft submitted a patent application for a familiar-looking connector – a connector meant to be used for battery charging and data transfer. Interestingly, it is magnets that keep it attached to the device it is implemented in, just like how Apple's MagSafe connector works.
Well, Microsoft has apparently put this technique to use already. People who have seen the newly-announced Surface tablet in person or in close-up shots might have noticed a strange terminal on the right side of the device. It looks really similar to what is being described in the patent application, so we might be dealing with a proprietary connector that Microsoft decided to use with its slate.
Now, that is not necessarily a bad thing. Such a magnetic connector ensures that you new, shiny
Microsoft Surface
tablet will not be sent flying across the room the first time you trip on its charging cable. On the other hand, it
is
a proprietary connector, and getting spares or replacements for these can be a pain in the neck.
But despite all that, whether this MagSafe-like connector is indeed present on the Microsoft Surface has not been confirmed yet. Therefore, this terminal on the tablet's side might have a totally different purpose. We hope to find out sooner than later.