Microsoft Surface Pro with 256GB confirmed to be on the way
10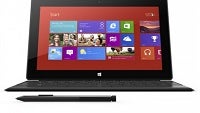 You may remember in May we shared news that the
good folks in Japan
were going to be offered the
Microsoft Surface Pro
with 128GB and
256GB
models. Microsoft began selling the Surface Pro with beefier storage for ¥119,800 ($1,100) on June 7th.
While there was some grumbling about the amount of space Windows 8 took to operate on the tablet, 64GB models had roughly 23GB of usable space. However, that was less of an issue since the Surface line of tablets support microSD cards up to 64GB, and users have access to the familiar file system to keep things organized.
Microsoft took a clue from that reality either way, started producing higher capacity tablets and started selling them first in Japan. Now on the 256GB Surface Pro is going to be available elsewhere (at least starting in the US). Spotted today on the website of CDW, a technology supplier for businesses, is a Surface Pro with a 256GB SSD inside.

A source inside Microsoft has confirmed with WPCentral that a formal announcement is in the works. That means we will be seeing this tablet in Microsoft stores and other locales in short order. The 256GB Surface Pro lists for $1,199.99 on CDW's site which is a $200 premium over the 128GB version. For that kind of money, the Surface Pro is in the midst of some pretty capable competition from Windows 8 OEMs like Lenovo, Fujitsu, Samsung, and HP.
If on-device storage is a premium, then the Surface Pro with 256GB will appeal greatly, however, you might find a better deal by getting a 128GB model and then buying a 64GB microSD card separately. If you manage your space well, the net-147GB (give or take) should serve you almost as well as the net-200GB that the 256GB Surface Pro affords.
Source: WPCentral (
1
,
2
)