Microsoft Surface Pro outsells Apple iPad Pro better than 2-to-1 in U.K. enterprise during Q1
45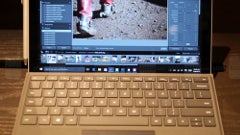 Yes, they are both pros. It even says so in their names. On one hand you have the Microsoft Surface Pro, and on the other hand you have the Apple iPad Pro. Both are high-end detachable tablets that are at the top of the sales charts. According to analytical firm Canalys, it is the Microsoft slate that was been preferred by the enterprise in the U.K. during the first quarter of the year.
From January through March, U.K. businesses snatched up 275,000 units of the Surface Pro which more than tripled the previous year's Q1 sales of 83,000 slates. The Apple iPad Pro sold less than half as many units to the U.K. enterprise in the quarter, with 107,000 iPad Pro tablets purchased by U.K. firms.
If you're wondering about the U.K. consumer market, it is a different story altogether. There, the iPad Pro is outselling the Surface Pro. So what is the difference in the enterprise? It's actually quite elementary, according to Canalys senior analyst Tim Coulling. "One of the problems facing Apple is price, the other is familiarity and applications," Coulling said. He is referring to the many Windows powered computers that are used in the business world. Those working for corporations and businesses are more familiar navigating around the Surface Pro than the iPad Pro.
The tablet market in the region is just as weak as in the rest of the world. Overall, consumer purchases of tablets declined in the U.K. by 8% year-over-year from January through March. The iPad was the top selling tablet in the U.K. during that period with 500,000 units sold. Samsung was next with the manufacturer moving 333,800 units. Both figures are down double-digits in percentage terms from the year earlier numbers.
source:
TheRegister
via
MSPoweruser
Recommended Stories