Microsoft Surface 2 release date and price announced, Pro model starts at $899
23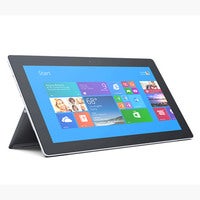 We've been there hundreds of times already: a hot new gadget is announced, the crowd applauds, and then comes the long wait until the product actually hits the shelves. And if you've got your mind set on getting a Surface 2 tablet, then you'll be able to grab one in no less than a month from now. The Microsoft Surface 2 and Surface Pro 2 release date is set for October 22, with online pre-orders for both models scheduled to begin at 8:00 tomorrow (Sep. 24). At launch, the tablets will be available in 21 countries.
As far as pricing is concerned, the Microsoft Surface 2 starts at $449 – that's for the base model equipped with 32GB of native storage. The 64GB variant will set you back a bit more, presumably $459, judging by how the first-gen Surface RT was priced. Speaking of which, last year's Surface RT tablet will remain on sale for $349.
Those who demand a bit more power out of their Windows 8 tablet, however, may consider grabbing a Microsoft Surface Pro 2. Of course, it is also more expensive than the RT model, starting at $899. That gets you 64GB of SSD storage and 4GB of RAM. A fully loaded Microsoft Surface Pro 2, packing a 512GB of SSD storage and 8GB of RAM is expected to retail for $1799. The gap between these variants will be filled by two Microsoft Surface Pro 2 options, with 128GB SSD/4GB of RAM and 256GB SSD/8GB of RAM. Their prices aren't known right now.
So yeah, if you want a Microsoft Surface 2 tablet, then visit the company's online store tomorrow morning. Just make sure you've read our news about the
Surface 2
and
Surface Pro 2
prior to taking out your credit card.