Microsoft Edge is announced as the browser built for Windows 10
19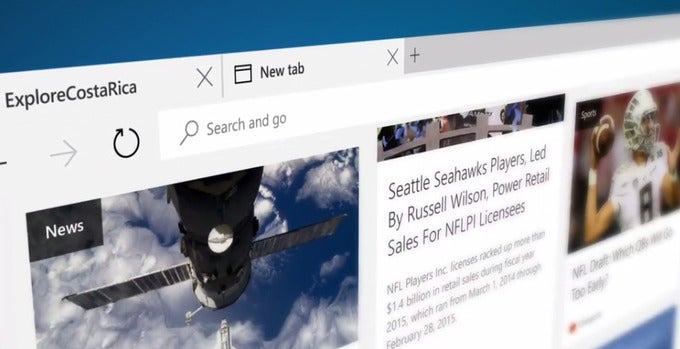 Three months ago, Microsoft announced Project Spartan. It was a new web browser built with two goals in mind – to serve as a default web browser in Windows 10 and to replace the now-deceased Internet Explorer. Today, at the Build 2015 opening keynote, we were treated to a few more glimpses at Microsoft's browser project, or Microsoft Edge, as it will be known from now on.
Yup, Microsoft Edge is the official name of the company's new web browser – the browser that will come with Windows 10 out of the box. In fact, it will be available "on the widest range" of Windows 10 devices, as Microsoft puts it. You'll find it on Windows 10 phones, tablets, desktop PCs, even probably on the Raspberry Pi.
What can it do? Well, we've already seen some of Microsoft Edge's outstanding features in
previous demonstrations
. It comes with built-in note taking functionality, a wonderful reader mode that clears distractions while you're reading articles, and Cortana integration for all your queries. What you've probably not seen yet, however, is the browser's New Tab page. Basically, each time you open a new tab, you'll be presented with a screen populated with shortcut tiles and widgets. These will provide weather information, the latest news headlines, a list of apps you might like, and so on, while the sites you visit the most will be listed at the page's very top. All this content will be dynamic, of course, and the suggestions will be tailored to your needs and preferences.
To enhance your web browsing experience even further, Microsoft is adding support or extensions to its browser. In fact, developers will be able to effortlessly bring existing Firefox or Chrome extensions to Microsoft Edge as the process will require only minor code modification. This feature was demonstrated live on stage with extensions for Reddit and Pinterest, which worked without a hitch.
So yeah, that "E" icon on Windows desktops will soon adopt a completely different meaning. Microsoft Edge is shaping up as a potent, powerful alternative to the likes of Chrome or Firefox, but then again, we still have to give it a proper testing once it is out. Speaking of which, Microsoft Edge should arrive along with Windows 10 in the coming months.
source: Microsoft