MetroPCS tempts switchers with 1GB of free LTE data, free Samsung Galaxy Core Prime
8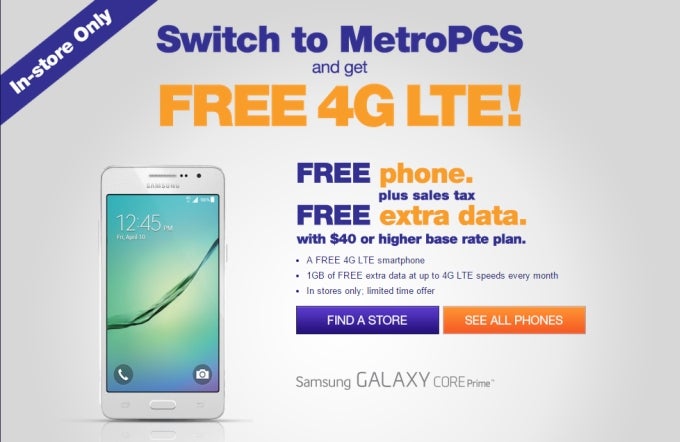 MetroPCS, T-Mobile's prepaid subsidiary, recently launched a campaign that attempts to encourage mobile subscribers to ditch their current carrier in its favor. To accomplish this, MetroPCS offers to add more data and will even give away a free LTE-enabled smartphone to carrier switchers.
Port your number from another carrier in the US anytime between now and the end of September, and MetroPCS will add a GB of data for free. This applies to the $40 plan as well as the $50 plan, and with the free GB of data, the new quotas are 2GB and 4GB of data at LTE speeds, respectively. The 1GB of free data will continue to be offered each month, as long as you remain a MetroPCS subscriber.
Furthermore, customers who will switch camps to MetroPCS will be able to get the LTE-enabled Samsung Galaxy Core Prime for free. Alternatively, MetroPCS will offer you a $50 rebate on any of its other smartphones. The offer is only available in stores, but you can head on to the source link below and find a MetroPCS store near you.
The unlocked version of the Galaxy Core Prime can be bought for about $171 on Amazon, meaning that this is a pretty nice deal if you're in the market for an entry-level LTE-capable handset.
The
Samsung Galaxy Core Prime
comes with a 4.5-inch display with a resolution of 480 by 800 pixels, a 1.2GHz quad-core Snapdragon 410 chipset paired with 1GB of RAM, 8GB of microSD-expandable internal storage, and a 2000mAh battery. Granted, the specs won't blow anyone away, but this is a free smartphone we're talking about.