Metal showdown - stunning HTC One M9 renders compare it to the iPhone 6 and Galaxy S6
22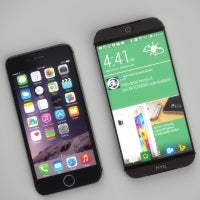 Prolific smartphone concept designer Martin Hajek still hasn't landed a job in Apple, it seems, so he's turned his skills set towards HTC, a place of similar design potency. Martin created a stunning set of renders imagining the upcoming HTC One M9 and comparing its body metals to those of the
iPhone 6
and, guess who - the Samsung Galaxy S6! By the looks of it, Spring 2015 will be an explosive metal showdown among the smartphone flagships.
Flashy visuals aside, Martin's renders show a somewhat worrying trend - all three smartphone have that same rectangular shape with rounded corners tat was set in stone by the iPhone 6. Is following Apple the only way left to capture the consumer's attention in a market so aggressively competitive? Well, let's not get into tough debates. The three smartphones look extremely pretty, and it's that which ultimately matters to consumers.
Without further ado, here are Martin's creations. Enjoy the eye candy!