Men who post too many selfies are narcissistic and psychopathic
47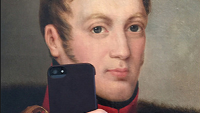 A survey conducted by Ohio State University revealed that men who post plenty of pictures of themselves online (like selfies) are narcissistic and psychopathic. The study covered 800 men aged 18 to 40 who filled out an online survey, and completed standard questionnaires for anti-social behaviors and self-objectification. Women were not included as part of the survey.
The men were asked how frequently they post a picture of themselves, and whether they edited the pictures by cropping them, applying filters to them, or employed photo-editing software. Men who edit their online pictures before posting them, ranked higher for narcissism and self-objectification. The latter means that you value yourself based on appearance and not for other positive traits you might have. This behavior can lead to eating disorders and depression. It is a vicious cycle. Men who score higher for self-objectification post more selfies, seeking to hear more feedback about their appearance, which leads to the posting of more selfies.
The survey didn't show that all men who post an inordinate number of selfies are criminals that you should stay clear of. They did score in the normal range of behavior, albeit with a higher degree of anti-social activity.
source:
OhioStateUniversity
via
Gizmodo