Meet the Nokia tablet that never was: the M510, circa 2001
44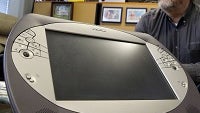 Imagine a Nokia tablet in production a full nine years before the world would see its first iPad, or six years before the iconic iPhone. It almost happened, actually, you could say it really did happen.
Then, after what could be called the last minute, the plug was pulled after about 1,000 units were manufactured, and so the Nokia M510 Web Tablet would never reach the hands of consumers.
Consumers and families were the target of the M510. Esko Yliruusi was on the team that created the tablet, and was responsible for testing the communications capabilities of the device. He was attached to the project up to the point it was canceled in August 2001 and he left the company.
The Nokia Web Tablet had a full set of features for hardware of its era. It was designed on an early build of Symbian, called Epoc. It featured native email, calendar, "noticeboard" (like a bulletin board), and Opera web-browser apps.
The user interface was touch-screen enabled, and also stylus enabled. There are function buttons and toggles on each side of the tablet. The screen was a full 10-inch 800x600 pixel LCD. There was enough battery power for 4 hours of use, which, if you remember the technology from 2001, meant the tablets weight of 4 pounds was perfectly reasonable.
There was USB connectivity as well as ps/2 and a 3.5mm headphone jack. Connectivity was managed by a Nokia C111 Wi-Fi module providing 802.11b connections allowing speeds up to 11Mbps. The M510 even had a stand to keep it upright while it was on the table. In fact, you could say the tablet was ahead of its time to an extent. Nokia's market research was indicating there was no demand for the product and that was the reason why the project was canceled.
Of the 1,000 tablets that were produced, nearly all of them were sent to the crusher. Mr. Yliruusi believes there are about 130 surviving devices. Each member of the development team got their own, "I had a strong feeling that this one is a keeper. There were things in the device that were done just as they should be. I felt that we shall be hearing of gadgets like this."
As it happened, Nokia would not offer another tablet device until 2005, with
the announcement of the Nokia 770
. According to Mr. Yliruusi, the 770 took some of the better features of the M510, "When the Nokia 770 was launched I had the feeling that all of our work hadn't gone to waste."
While today's technology outshines the capabilities of the Nokia M510 Web Tablet in every way, the fact that Nokia is out of the hardware manufacturing business makes the argument that this tech gadget is quite collectible.
source:
digitoday
photo credits: Kuva: Seppo Kärki - digitoday - Talous Sanomat