Meet the Nokia 216, possibly the last Microsoft-made Nokia phone
12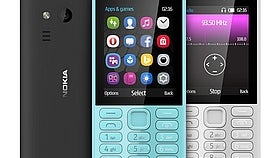 Microsoft has just unveiled what could be its last Nokia phone. The new Microsoft Nokia 216, which also comes in a 'Slim' edition, is not the phone that Nokia fans have been waiting for, and that's mostly because it's not even a smartphone. Instead, it's a feature phone (a dumbphone) that runs on the Series 30+ operating system.
A few months ago, Microsoft announced that it will be selling its Nokia feature phone division to FIH Mobile, a subdivision of Foxconn. But before the Foxconn subsidiary takes control over the Nokia branding for future dumbphones, Microsoft decided to take another shot at milking what turned out to be a very unproductive cash cow.
The Microsoft Nokia 216 isn't designed with the US customer in mind, mostly because the vast majority of phone users in the US have migrated towards smartphones even for their backup phones. Instead, the Nokia 216 is aimed at developing markets.
Dumbphone bashing aside, the Nokia 216 is actually a decent device if you don't care for apps and just want a phone with a long lasting battery.
In terms of specifications, the Nokia 216 comes with a 2.4-inch display running at a resolution of 320 by 240 pixels. The handset comes with 16MB of RAM (no, that's not a typo). Other specs include 0.3MP cameras on both the front and the side and a 1020mAh battery.
The Nokia 216 comes in three color options: white, black, and teal:
At the moment, the price has yet to be unveiled, but judging on the specs and Microsoft's previous Nokia dumbphones, the Nokia 216 should be affordable.
What do you guys think, isn't the Microsoft Nokia 216 an appropriate ending to the Nokia-Microsoft story?