Meet Tactus - the touchscreen that pops into physical buttons on demand, then flattens back
27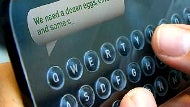 It's been everyone's dream ever since touchscreens got popular in smartphones and tablets in the last few years - to have physical buttons that pop when you have to type or dial a number, then flatten back leaving you with just the touchscreen when they are not needed.
It's been a fantasy so far, one reserved for sci-fi movies and concept handsets, where everything goes. Not if you ask
Tactus
, however - the company has developed a way to replace the top layer of existing touchscreens with a Tactile Layer that incorporates popping buttons, which can morph back into an even surface.
The layer doesn't add extra thickness to existing touchscreens, Tactus argues, and the buttons shape, size and layout can be customized for each particular case. The keys are application-controlled and utterly transparent, so when you are finished typing letters and numbers, or killing zombies and racing Porsches, the buttons just sink back into a flat shape.
Magical stuff indeed, and one we hope gets perfected for use in our smartphones and tablets as soon as possible. The trademark "Tactile Layer" was already demonstrated at the SID expo the other day on an Android tablet as well. Watch a video explaining the science behind the Tactus magic below.