Meet Samsung's Galaxy Young 2 – a perfectly fine phone for your little ones
16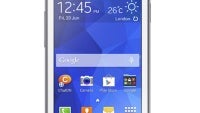 It looks like Google delivered on its promise to make Android 4.4 play nice with the modest-est 512MB RAM devices out there, because otherwise, Samsung's latest smartphones wouldn't have been a possibility. Joining the Galaxy Ace 4, Star 2, and Core II, the new Samsung Galaxy Young 2 is described as
"an ideal smartphone for the user who focus on essential features and usability"
(original writing preserved).
The minion features a 3.5 TFT display with 320x480 resolution and is powered by a single-core CPU clocked at 1.0GHz, teamed up with 512MB of RAM. It runs Android 4.4 KitKat styled with Samsung's TouchWiz Essence, which is, we presume, a lighter version of the TouchWiz you know and love - or love to hate. The dual-SIM phone also has Samsung's ChatON messenger, FM Radio,GPS, HD Voice, and compatibility with HSPA+ and GSM/GRPS/EDGE networks. Bluetooth and Wi-Fi add to the connectivity. There's a 3MP camera fixed-focus camera. The whole thing weighs 108 grams (3.9 Oz) and is ran by a 1300mAh battery.
Overall, this sounds like a great smartphone for your little ones, especially since it has GPS to keep eye on them and eight Gameloft titles to entertain them during math class. *cue in nostalgic background music* Our first phones in elementary were all Siemens C55s, M35s or whatever, and they did the job! Hopefully, Samsung will price the Young 2 sensibly.