Matias Duarte says the Android UI is only a third into the level of polish needed, "better get back to work!"
40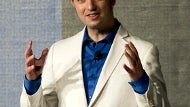 Responding to an article that analyzes all the little quirks and inconsistencies even in stock Android, and even with Jelly Bean, like lack of landscape orientation support for the interface, random actions of the back button and so on, Matias Duarte, Android's UI chief, took to G+ and said:
"
It's true, we still have a lot of work to do. Personally I feel like I've gotten only about a third of the way to where I want to be with regards to consistency, responsiveness, and polish.Better get back to work!
"
Jelly Bean has been mostly adding awesome functions like Google Voice and Now, and focusing on the UI speed with the 60fps Project Butter, so in the next major Android edition we can apparently expect leaps in the stock interface uniformity and consistency as well. On a side note, it seems that
Jelly Bean is the fastest adopted Android edition in history
, so things are gradually falling into place.