Maps manager Richard Williamson reportedly shown the door at Apple
26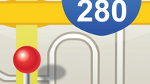 Reports are surfacing that the executive in charge of developing and launching Apple's first mapping effort, has been sacked due to the
half-baked product
he and the team churned out at launch.
Richard Williamson was reportedly shown the door by none other but Eddy Cue, the soft-spoken Senior Vice President, said people familiar with the matter who declined to be identified.
Eddy Cue, who oversaw the company's cloud services and iTunes content negotiations, was recently put in charge of Apple's most daunting recent software efforts - Siri and the Maps technology.
He is reportedly venturing for external help with the mapping software, too, charging TomTom with the improvement tasks, and putting together a team to quickly fix the more startling omissions, which is already giving positive results in the US and UK, for instance.