Man roots giant Nexus S device at Best Buy
16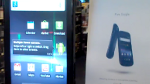 You remember those
giant sized Nexus S replicas
that have been hanging around Best Buy and Best Buy Mobile stores. Perhaps you have even had the opportunity to play around with them, no doubt using the browser to check the latest news on phoneArena. We have had the opportunity to use one and we can vouch that they
work almost exactly like a regular sized Nexus S
, it just won't fit in your pocket.
A few months ago, it seems that a customer was on line at Best Buy with his broken phone, waiting to get it repaired. When he spotted the Nexus S replica, a thought came to his mind and
he rooted the phone
. A video was made of the aftermath of the rooting of the giant unit and while the actual steps used to root the phone were not taped, you can see the man show off the Superuser icon and his ability to run a superuser on terminal emulator to prove that the device was rooted.
It shows you how much like a
real Nexus S
the giant displays are. We can only imagine what was going through the mind of the Google employee in charge of the display after finding that someone was able to root what was really meant to be a giant conversation piece. Ironically, the model of the phone that the customer was bringing in for repair was a-you guessed it-a Nexus S.
source:
YouTube
via
Phandroid