Man gets T-Mobile tattoo, receives a free iPhone 8
42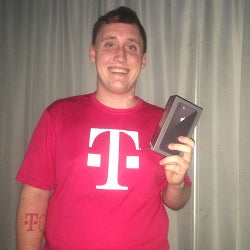 Ah, the crazy things people would do nowadays for either social media recognition or some free stuff. Combine both and you just strengthen their resolve.
Back on the 6th of October, one Philip Harrison tweeted that he'd happily tattoo the T Mobile logo on a visible place of his body in exchange for an
iPhone 8
. The tweet does address T-Mo's CEO John Legere, who is quite active on the social media and was quick to reply – deal!
On the 8th of October, Mr. Harrison was all inked up and proudly flaunted the magenta T, permanently stamped on his forearm. John Legere was quick to act and had T-Mo support grab Harrison's personal info. On the 11th of October, the phone, along with some T-Mobile merch, was in the fan's hands.
It's interesting to see whether there will be an army of fans that offer the same deal going forward. But here's our question to you: wouldn't you at least have asked for an iPhone X?