Makers of China's P88 tablet may sue Apple over the iPad's design?
5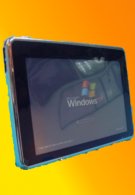 There's going to be yet another possible lawsuit heading over Apple's way which takes shots at the iPad's design. We've already heard about the feud going on over the rights of the iPad name between
Fujitsu and Apple
. What's at the heart of the matter this time around is the design resemblance between Shenzhen Great Loong Brother Industrial's P88 tablet PC and Apple's iPad. The Chinese company that sells the tablet PC may throw a lawsuit regarding the recently announced Apple iPad over its similar design. The P88 tablet PC started selling last year and was born in a southern Chinese city known for producing knock-off phones; called "shanzhai" or "bandit" phones. Aside from the cosmetics, the P88 weighs more and has only 1 hour of active use before requiring a charge. Both are similar with their touchscreens surrounded by a black border – the P88 stands at 10.2 inches while the iPad at 9.7 inches. Apple has not commented on the situation just yet, but we're sure they'll respond if this lawsuit moves forward.
source:
Yahoo