Lawsuit imminent over the iPad name?
This article contains unofficial information.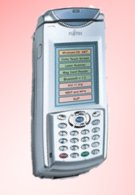 It was only going to be a matter of time before we saw someone come out of the woodworks swinging with some kind of lawsuit over rights to the "iPad" name. Although there were many speculations as to what name Apple would ultimately use for their iPad, there is going to be some kind of lawsuit over it – it harkens back to Cisco's dispute over the iPhone moniker. Fujitsu may be planning on an imminent lawsuit and consulting its attorneys about going to court over Apple's use of "iPad" for its device. Masahiro Yamanne, director of Fujitsu's public relations division, said "It's our understanding that the name is ours." Apparently there have been a few companies that sought interest in the "iPad" name – Fujitsu's application to trademark the name stalled because of an earlier filing by another company; it ultimately was marked abandoned in early 2009 by the US Patent and Trademark Office. Soon afterwards Fujitsu revised its application back in June with the hopes of finalizing it, but Apple had already applied for an international trademark on "iPad" through a proxy company and filed numerous requests with the US Patent Office for more time to oppose Fujitsu's application. Fujitsu originally applied for the trademark back in 2003 which then setup the release of their iPAD – a 3.5" color touchscreen device powered by Microsoft's CE.NET operating system. It was mainly sold in the US and classified as a multifunctional device that aided shop clerks to verify prices, inventory data, and close sales in real time. This probably won't be the last dispute we'll hear about the name because there are other companies that have used the iPad name around the world.
source:
NY Times
via
Slashdot