Magician duo brings iPad magic to a whole new level
12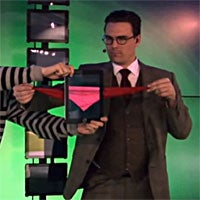 We see it here in the comments everyday. Some find Apple's tablet to be a revolutionary device that can almost be viewed as magical, while others are less than impressed. Wherever your tablet allegiance lies, this video shows that the iPad can be magical, literally.
Charlie Caper and Erik Rosales put on an incredible presentation on behalf of Step2 Communications at MIPIM in Cannes. The act required seven iPads, one of Sweden's best magicians, and, assumingly, countless hours of rehearsal. The over three minute presentation, which was to promote Sweden's capital of Stockholm, is probably one of the most innovative uses of tablets in a presentation we've ever seen.
Check out the video below to see Charlie and Erik dazzle you with both technology and sleight of hand.
source:
iMore