MOTA SmartRing reaches crowdfunding goal of $100K
10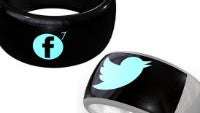 Not all wearables have to be watches, and not all wearables that go for crowdfunding are runaway success stories. Somewhere in the middle is the
MOTA SmartRing
, which reached its crowdfunding goal of $100,000 today, just four days shy of its Indiegogo deadline. There are enough people interested to see how a smartring will work, but people certainly aren't going crazy over the idea.
The MOTA Indiegogo campaign began on September 3rd, and since then it has found just under 1500 funders (as of this writing), about 1300 of which gave enough to be in line for an actual device. This is not a huge number of backers, especially given that after the initial 500 funders who got the early bird discount rate, you could snag a smartring for just $75. But, it's enough backers that the production should move forward, and if everything goes according to schedule, the MOTA ring should start shipping to backers in April 2015.
The MOTA ring is basically what you'd expect from a wearable. It is a Bluetooth connected device that will relay short notifications, like phone calls, texts, and social network notifications, directly to your finger. Of course, that is also a bit of the worry with the device. Glancing at your wrist is a socially accepted gesture and doesn't raise many eyebrows. Glancing at your finger? Well, that's a bit different and more noticeable.
The MOTA Indiegogo campaign ends on October 3rd, but there is already a pre-order page up for after that ends. Anyone out there interested?