MLB Coach fined for wearing an Apple Watch in the dugout
11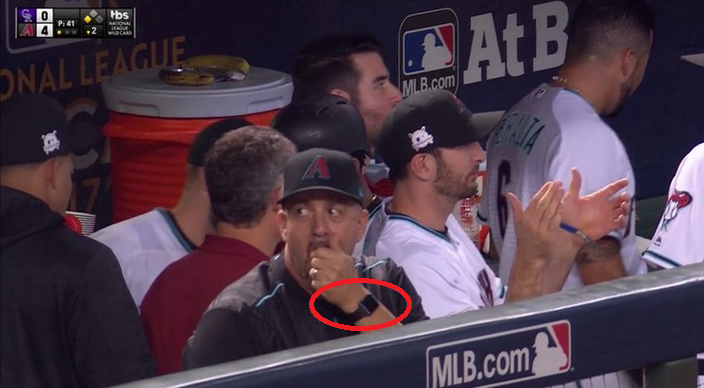 Arizona coach Ariel Prieto is seen on MLB TV's broadcast of Wednesday night's Diamondbacks-Rockies game wearing an Apple Watch in the dugout
Can you be fined just for wearing an Apple Watch? You can if you're a MLB coach wearing the smartwatch in the dugout. Wearing the connected timepiece that close to the players and the playing field violates the sport's rule against the use of electronic communications. The coach, Arizona Diamondbacks' Ariel Prieto, wore the Apple Watch on his wrist during Wednesday night's playoff game against the Colorado Rockies.
Prieto's faux pas cost him an undisclosed amount of money even though Major League Baseball concluded that the wearing of the Apple Watch was an honest mistake. MLB investigated the coach's watch and his iPhone and found nothing suspicious.
You might recall that last month,
the Boston Red Sox were accused by the New York Yankees of equipping a trainer with an Apple Watch
. The trainer had a view of the field that allowed him to see the signs given to the Yankees' pitcher by catcher Gary Sanchez. Using the watch, the trainer allegedly sent messages to the Red Sox dugout that were relayed to the batter at the plate, tipping him off about what kind of pitch was coming. While initial information said that the Boston trainer was using an Apple Watch, subsequent information revealed that he was sporting a Fitbit
"M.L.B. found no evidence that Mr. Prieto used the Apple Watch or cellphone for any purpose in the dugout, nor any baseball-related communication on either device during Wednesday's game."-Statement from MLB
The Red Sox were subsequently fined by MLB and all 30 teams were warned that future violations could result in more serious penalties. While the fine assessed to Arizona coach Prieto has not been made public, MLB said that the money would be donated to agencies helping Puerto Rico rebuild after the recent hurricane.
source:
NYTimes