MEA Culpa: Mobile phone sales drop 5% in Mid-East and Africa in Q1 2013
13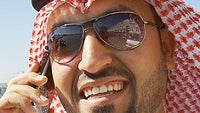 Despite a 5% drop in mobile phone sales for the first quarter in the MEA region (Mid-East and Africa), smartphone sales in the same region grew sequentially and year-over-year, led by the
Apple iPhone 5
. The latest iteration of Apple's iconic smartphone is now available in all of the MEA markets which gave the smartphone market a little spring in its step during the first three months of the year. The first quarter is usually a problematic one in the region because it follows a strong seasonal fourth quarter.
Annette Zimmermann, principal analyst at Gartner Deutschland GmbH, said that Apple iPhone 5 volume rose on a year-over-year basis. Including the surge in sales of that model, total smartphone sales were up 3% sequentially and 30% year-over-year to 11.44 million units. That topped the 11.2 million sales in the fourth quarter of last year, and the 8.45 million in sales to the region in the first quarter of last year.
Nokia remains the top mobile phone vendor in the region, although the Finnish OEM has seen its lead over second place Samsung shrink dramatically. In the most recent quarter, Nokia had 37% of the market compared to 25% for Samsung. The prior year saw Nokia with 48% market share and Nokia with 22%. The stronger smartphone market in the region might be playing right into Samsung's hands. BlackBerry lost some market share in the region while Apple picked some up.
Total handset sales in the region tallied 43.84 million in the first quarter with featurephones leading the way. Smartphones accounted for only 26.09% of sales in the period. Samsung has
more than 50%
of the smartphone market in the region with Apple holding an 11.4% piece of the pie. BlackBerry's smartphone market share is 10% followed by Sony and Nokia with 6.9% and 3.7% respectively.
"Android will get a boost with the introduction of HTC One in the second quarter. HTC One is rated as the most beautiful smartphone, more than Samsung Galaxy S4 in the market right now, in my opinion. We are seeing a lot of carriers in the Gulf promoting the HTC's flagship model bundled with value-added service."
-Annette Zimmermann, principal analyst,Gartner Deutschland GmbH
source:
TMCNet
via
WPCentral