Lower priced iPhone models expected to come about in June?
7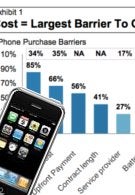 With so m any rumors still swirling around the next generation iPhone, there is one that may focus its attention on pricing as opposed to glorifying the hardware under the hood. It's speculated that Apple's latest incarnation of the iPhone is expected to have a total lower cost of ownership according to one prominent analyst. In addition to that, it's also rumored to include new gesture-based functionality – it may have something to do with an
application patent
that was recently revealed. The analyst, Katy Huberty with Morgan Stanley, suggests that one of the biggest barriers that face the iPhone's adoption to the masses is its cost of hardware and service plan. The costly investment in the device is the biggest hurdles and issues in both developed markets like the US and emerging ones like China. With that in mind, Huberty expects Apple to address this one aspect and attack it by introducing a new model that will be economically friendly to even more customers. Huberty stated in a note to investors that "We expect Apple to launch new iPhones in June that offer both a lower total cost of ownership and new functionality, potentially including gesture-based technology." As we've seen Apple make the their lowest priced model, the 8GB iPhone 3G, jump the barrier and land in at a friendly $99 price point, the newer iPhone 3GS models seem to be the most popular options for customers. When you look back at how Apple managed to extend its iPod products to a new class of customers, they introduced the inexpensive line of iPod Nanos that provided less storage and a lower price point – shall we see the same fate happen to the next generation iPhone? If it does come about, there might be a myriad of next generation models that might cater to the individual needs of customers.
Apple iPhone 3GS Specifications
|
Review
via
AppleInsider